Purge/Gas sweep models
Purging operations are usually realised on industrial units (tank, reactor, etc.) in order to maintain product quality (e.g., by using a dry sweep gas to minimise water vapour in system), to reduce concentrations of flammable vapours or also to purge all residual vapour from an installation.
Purge/gas sweep operations are realised:
By direct injection of a gas (nitrogen, air or other) in the installation,
By forced extraction (canalised output) of vapours.
Following picture present reactors with forced extractions (used for purging the headspace in order to maintain vapour concentration below the inferior explosive limit):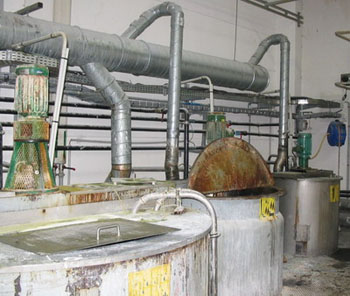 In order to evaluate atmospheric emissions during purging operations, Envmodels propose two calculation tools:
One model for empty installation purging (only residual solvent vapours are present),
One model for partially filled installation purging (that still contain liquid solvents).